In a business environment, SaaS is an optimal alternative to local services (traditional methods), which require server creation, application installation, and configuration. Therefore, applications are hosted on remote cloud platforms that can be accessed through web browsers or APIs, as simple as they are rented. You and your company can use the software for a period of time, and the company will be responsible for the payment. You need to learn more about the advantages of software as a service (SaaS).
The Internet technology and business model are developing rapidly, so when selecting the best software in a given situation, long-term perspectives and impacts need to be considered. Our key goal is to maximize product adaptability so that business owners can keep up to date and remain competitive.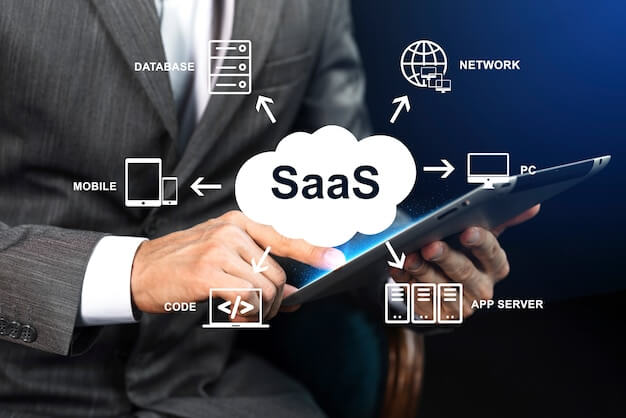 In 2021, the SaaS market is expected to be worth about 152.18 billion dollars, and will reach 208.1 billion dollars by 2023! If you haven't become a part of this breakthrough technology, you can join this trend.
A variety of software is now available. Many software development companies offer customized and off the shelf solutions, as well as SaaS (Software as a Service) applications. Let's take a closer look at the advantages of SaaS applications.
Why does your enterprise need SaaS applications?
Have you considered how to increase the company's sales?
Do you lose customers because of poor customer service?
The product can be improved through applications.
You are part of the mobile generation (everyone loves their phone).
Are you looking for scalability that is in the way?
Eight Advantages of Developing SaaS Applications for Your Enterprise
Many large companies and small organizations are adopting automated business model strategies.
"Why SaaS is important" is a common question that enterprises will think about before making any investment.
Let's look at some of the special advantages of SaaS (Software as a Service) application development.
Easy customization
Ease of customization is considered one of the major advantages of SaaS applications. Let's understand why.
For SaaS applications, the number of customization options available is endless. You can choose software and applications that complement your company's specific layout.
Because SaaS aims to provide users with software and applications tailored to their preferences, users can request specifications and upgrades in this process, because the entire system is online and can be accessed anywhere.
No additional hardware cost
Small businesses may not have the initial capital to invest in hardware. With SaaS, people can buy advanced software without having to pay for expensive high-tech hardware. Since the entire application is maintained and operated by the cloud service provider, the end user does not have to worry about the initial setup cost.
In addition, an ongoing cost related to applications and software is their timely maintenance and upgrading, which is also done through cloud virtualization.
Multi tenant architecture
Although SaaS allows users to customize the application to meet their needs, users cannot change the application's basic code. In a multi tenant architecture, vendors sell their software to multiple tenants on behalf of SaaS users.
With such a system, multiple users can share the same database and resources at the same time. In this arrangement, the tenant can save money and time because the provider handles the hardware and updates related to the application.
Tenants find the multi tenant architecture particularly cost-effective because it enables them to access the most advanced software at a competitive price and provides automatic updates and upgrades.
Better global access
Some software installations are limited to specific computers or IP addresses. This can become a problem if you travel, move your business elsewhere, or hire employees from other locations and countries.
With SaaS, users can access software remotely as long as they have Internet connection and login information. For enterprises, this will increase productivity and reduce staff layoffs, because it allows them to work anywhere without having to work in the office in person.
In addition, because each user has a unified code, enterprises can easily collaborate on projects without encountering technical difficulties.
Cross device compatibility
SaaS is not limited to specific devices or locations. Since the software is available online in the cloud, anyone can access it, whether their device is a laptop, computer, tablet or mobile phone. Software compatibility with many systems ensures that the user experience is not affected.
With the diversity of operating systems and devices, it is a challenge for software developers to design code that can run smoothly on each platform. With SaaS, this benefit is incomprehensible to application developers.
Application integration
An API is an interaction between a client and a server. The server is the application, and the client is the query that the user types in the application.
SaaS users can easily integrate their working models with SaaS providers, making them one of the best advantages of SaaS.
Complex APIs enable vendor and user servers to access interfaces without errors.
Scalability and Flexible Payment
SaaS includes web-based applications; As a result, new capabilities can be added to meet the needs of growing companies. Because of these software and application updates, the system has become more advanced, which reduces the possibility of data loss, while simplifying regular maintenance through data backup and error repair. So you can upgrade or downgrade SaaS!
Unlike traditional software, SaaS provides the freedom to make payment arrangements. You must purchase an expensive lifetime license with a service life of no more than one year. For example, if you need more storage space, you can buy it in the cloud. In addition, you can simply unsubscribe from any paid features you no longer need.
Easy to manage
Every software has technical problems, which may take days or even weeks to solve with traditional software. With SaaS, suppliers and consumers are bound by service level agreements, emphasizing the responsibilities of service providers and customers.
It also discusses the expected turnaround time to answer questions and provide appropriate responses. Because it provides legal protection and accountability for customers, the workflow is maintained, and the enterprise's productivity is not affected by software quality problems.
This brings us to the end of the benefits of SaaS applications. In addition to the above advantages of software as a service, perfect update, guaranteed security and long-term customer relationship are also important advantages.
Affordability, accessibility, flexibility, accountability and scalability are some of the main reasons why SaaS is important in today's business. Whether you are a startup or a large enterprise, using the right software can save you time and money, while improving the overall efficiency of the team.