We live in an age of intelligence. Many fields that seem to be exclusive to human beings are being continuously scoured, eroded and scoured by the tide of intellectualization, and painting is no exception.
In the summer of 2019, a series of paintings "Anxiety of History" were exhibited at the graduation exhibition of graduate students of a university. From the perspective of expression and concept, these paintings do not have much novelty, but the painting language is skilled and the style is not vulgar. When the audience knew the identity of the author, they stopped to enjoy it. It turns out that the author of this group of paintings, "Xia Yubing", is actually an artificial intelligence robot, "Microsoft Xiaobing". She is a "graduate student" of Qiu Zhijie, a professor of the Department of Experimental Arts, and this group of works is automatically generated after three years of in-depth study. In August this year, in the art competition of the Colorado State Expo, a game designer participated in the competition of digital art unit by using artificial intelligence painting tools to create the work Space Opera House, which won the first place. It caused heated discussion in the illustration circle and spread to the entire network.
Faced with the rapid development of AI painting creation ability, some people exclaimed: "We are witnessing the death of art. If creative work will also be eliminated by machines, what else do humans have?"
This is really a problem that needs every painting creator to think about and face directly. As an illustrator, I have also been actively paying attention to and using AI painting tools in recent years, and thinking: Can AI painting programs replace human painting creators? How should painting creators cope with the coming wave of artificial intelligence?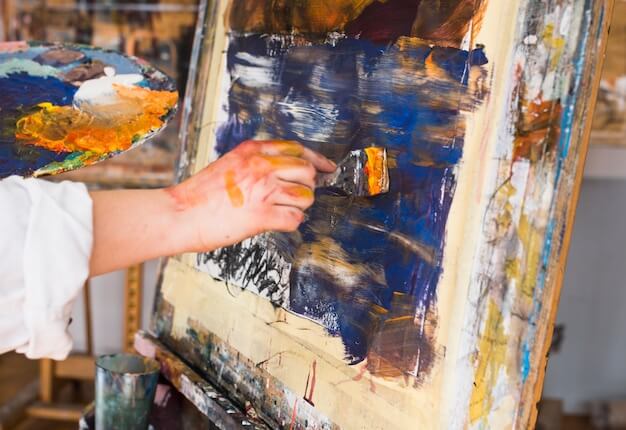 The internal mechanism of artificial intelligence painting creation
Artificial intelligence painting tools do not appear suddenly in recent years. They have been developed for decades. The use of artificial intelligence for painting can be traced back to the early 1950s, when the American artist Rabowski used oscilloscopes to create digital works, mainly the orderly changes of curve sets, which are very abstract. In fact, the AI painting tools of this period could not create realistic works. This situation changed with the emergence of the artificial intelligence painting program "Aaron". "Aaron" does not create digital works on a computer, but paints by controlling the mechanical arm. After continuous iteration, by the 1980s, "Aaron" had been able to create realistically, and his style was a copy of that created by the program developer Harold Cohen.
In recent years, the development of deep learning neural network has promoted the rapid improvement of AI painting program creation level. This year's very popular AI painting programs, such as Disco Diffusion, DALL · E2, Midjournal, and Stable Diffusion, are all based on deep learning neural networks.
Their main working principle is to collect a large number of works created by predecessors, classify and identify them through algorithms, and then generate new images. In 2018, Edmund Bellamy was sold at Christie's for 432000 dollars. The creator of this portrait is Obvious, a Paris art team. From 2016 to 2017, they collected 15000 classic portraits, covering works from the 14th century to the 20th century, and then used the "generative confrontation network" algorithm to process them, and finally produced a series of AI portraits, including this high priced one.
It can be seen that the creation of artificial intelligence painting programs is essentially computing. Scientists access the program to a painting database, and then use the algorithm to analyze and learn the visual style of these works, and carry out image pattern recognition and calculation. Now, AI painting has entered a new stage of "text to image" (text to image). The user opens the AI painting program and provides a word group to describe the desired content, style and material. The painting program can analyze it and generate paintings of the corresponding style.
The unique human life experience is still irreplaceable
This kind of intelligent program that requires human to feed data belongs to weak artificial intelligence. In the era of weak AI where we are now, no matter how sophisticated and powerful the AI painting program is, it does not have its own consciousness, but is subordinate to the tools of human creators, which is also determined by the nature of art.
Marxism believes that art is an aesthetic social ideology and a special spiritual production. It reflects the world and expresses feelings through perceptual images. It is the objectification of human essential power. Painting creation is the sublimation or catharsis of inner feelings. Dana, a French art historian, also pointed out that the production of works of art depends on the spirit of the times and the customs around. The creation of painting creators is the expression of their unique life experience, aesthetic appreciation and emotion, and also conveys the spirit of an era implicitly or locally.
This "intentionality" in painting creation is not possessed by AI programs. AI painting creation can not be separated from the selective input and training of scientists and artists. It does not have its own feelings, will, and the unique and complex life experience and life experience of the painting creators in the context of their times. Although the AI program can accurately imitate the features such as strokes, colors, composition, space, shape, texture, etc., when it is creating art, it is more about "learning the database in depth according to a command, superimposing and optimizing the scheme", and it is still unable to actively refine the "life story" belonging to a living creator to inject works and move the audience.
Now, in terms of vision, AI has been able to create unique professional paintings, but the value of AI paintings is related to the definition of artistic value, function and other aspects, while the aesthetic subject in our aesthetic system is still people, and the evaluation system of artistic value is still dominated by people. As Qiu Zhijie said, "The value of art is not only aesthetic, but also social, and more importantly, it is a political and economic issue." For painting creation, the creator's personal thoughts, feelings, aesthetics and wisdom are still the greatest vitality and value of painting works.
As AI painting programs are created based on the "predecessors' database", their evolution is based on the database of all artistic styles before this moment. Compared with the most cutting-edge styles of this era, their expression methods and styles are somewhat backward. Taking the illustration field where the author works as an example, the active artists in this field are still creating the style and "art history" belonging to the current era in the process of one minute, one month and one year.
Even if one day, artificial intelligence has really developed to self-consciousness, traditional painting still has its irreplaceable place. People's artistic creation is an interaction with the material and the real world. The process of painting from scratch is full of touch, taste and spiritual participation. As long as the human body still exists, human beings will have a continuous desire to perceive and express the human body. As a result, handicrafts, hand feeling and hand painting will continue to glow, allowing traditional painting methods to return to the art field to "recover lost ground".
Embrace intelligent painting with an open mind
The wave of artificial intelligence technology is surging. As a painter, he cannot be indifferent. Wu Jun, an AI expert, said well: "Any technological revolution will initially benefit the people who develop and use it, while those who stay away from it and refuse to accept it will be a confused generation for a long time."
AI painting tools, like the invention of photography, provide artists with new creative media and possibilities. As a painter, we should embrace and use this creative tool with an open mind.
We can take the painting of artificial intelligence as a key to inspire our own inspiration and creativity. Due to its characteristics of technology and tools, the AI painting program can, to a certain extent, exceed the limitations of human creators' knowledge structure, imagination, and cultural environment, quickly generate some unexpected images, greatly improve the efficiency of the creative process, and bring some new possibilities.
We can also use this new tool to show our creativity. With the reduction of requirements for computing power and computer hardware in AI painting, more and more people use AI to draw. People's acceptance and cognition of AI painting will gradually change from curiosity to appreciation. Artificial intelligence painting, like photography and film, may gradually change from a technology to an art category.
The current AI painting program can already generate paintings through text description, but just as having a camera does not mean being able to photograph, the aesthetic quality of the creator is still very critical if you want to use it to create ideal works. From the author's experience in using AI painting software, although the text description has lowered the threshold of painting, in order to create a good work with AI painting tools, the creator must continue to use his imagination to debug, supplement and modify. Illustrators, designers and painters have good painting skills. They are familiar with the characteristics of paintings of different factions. They can not only describe in precise language, but also import sketches to help AI programs better understand the description language, so as to obtain corresponding composition and color matching. They can adjust the details through later modification and supplementary painting. Therefore, their works created with AI painting tools are often beyond the reach of ordinary people.
To improve creativity and aesthetic ability, we must "learn from nature and get the heart". Creators should be close to nature, go deep into life, experience and edify in the practice of natural and social life, maintain keen observation and perception, and cultivate the eyes to know and understand beauty. At the same time, it is necessary to show the group arts, widely collect, and absorb nutrition from literature, drama, film, music, dance, sculpture, architecture and other art categories, so as to enrich their own understanding and expand the latitude of the mind. In addition, the creators also need to have the thinking of engineers, systematically think about their own creative context, and be able to use new technologies and techniques to integrate their unique life experience into creative expression. No matter how turbulent the future tide of intelligent technology is, the author believes that these will be the foundation for the creators of painting to settle down.