The mobile network has become a part of our daily life. Mobile phones can't leave the mobile network without sending WeChat messages to watch live games. However, many users will find that some mobile phones need to cache and play games when watching live broadcasts, but some mobile phones do not. Even if you use the same operator's network, the transmission speed of the mobile phone network will vary greatly at the same time and place. What? This may be because your phone does not support carrier aggregation. What is carrier aggregation? Next, we will introduce the carrier aggregation technology and the application of high pass carrier aggregation technology in detail.
What is carrier aggregation?
The content we upload and download with mobile phones will be converted into digital signals during wireless transmission, and the "carrier" is the carrier of these digital signals. Before the advent of carrier aggregation technology, the carrier can only transmit on a specific frequency band channel. The maximum bandwidth of a carrier is 20MHz, and the maximum peak rate is 150Mbps for downlink and 25Mbps for uplink. It is obviously difficult to meet the growing demand for transmission with large bandwidth and high speed. Therefore, carrier aggregation technology came into being.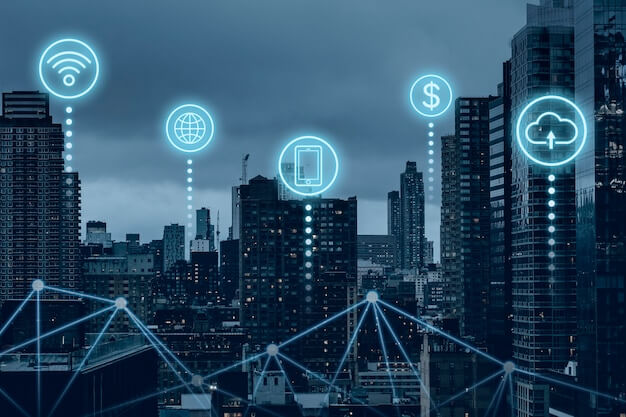 Carrier aggregation (CA) refers to combining two or more channels within a unified frequency band or between different frequency bands into a larger communication bandwidth to improve the uplink and downlink transmission rates to a greater extent. Specifically, the carrier aggregation technology can efficiently use the scattered spectrum of operators. Up to five carriers can be used at the same time, which can reach the maximum bandwidth of 100MHz. The maximum peak rate can reach 1Gbps in the downlink and 500Mbps in the uplink.
As early as the end of 2012, Qualcomm has successfully developed a modem MDM9x25 that supports carrier aggregation technology. It is also the first chip in the world to support LTE Advanced and LTE carrier aggregation. In terms of data transmission rate, the chip can reach up to 150Mbps. In terms of terminals, Samsung released the world's first LTE-A smartphone Galaxy S4 LTE-A in mid-2013, which uses the Snapdragon 800 processor integrated with Qualcomm's Gobi MDM9x25 modem, making it the fastest mobile phone at that time.
What is Qualcomm three carrier aggregation?
As a technology being applied in the current network, "three carrier aggregation" has to be mentioned. Three carrier aggregation is used to increase the downlink peak rate to 450Mbps by aggregating three channels within or between frequency bands to form a transmission bandwidth of 20MHz+20MHz+20MHz.
If the carrier is regarded as a truck carrying digital signals, then the download wave can only travel on one lane without carrier aggregation. Three carrier aggregation is to expand the original single lane into three lanes, so that the transmission content can pass faster and the transmission rate can be tripled. At the same time, the carrier can switch the channel freely, make full use of the spectrum bandwidth, and improve the transmission efficiency.
In the practice of three carrier aggregation, Qualcomm can be said to be the first. At the end of 2014, QUALCOMM successfully completed LTE Cat. 9 20+20+15MHz three carrier aggregation test with Huawei and the British operator EE, and the download speed was up to 410Mbps. Subsequently, in 2015, Qualcomm launched three carrier aggregation deployment tests with major domestic operators, all of which were successful. The Snapdragon 810 processor released in the same year integrates X10 LTE modems that support three carrier aggregation technology. Mobile phones using Qualcomm's flagship processors also support ultra-high downlink rates of up to 450Mbps without exception.
In 2016, Qualcomm announced the X12 LTE modem at the 3G/LTE conference. With three carrier aggregation and support for 256-QAM, it can achieve a maximum downlink peak speed of 600Mbps. In terms of uplink speed, X12 LTE uses dual carrier aggregation to increase the uplink peak speed to 150Mbps.
Even though it is still in the practice stage of three carrier aggregation, Qualcomm is still challenging the application of carrier aggregation technology to a new height. The latest Snapdragon X16 LTE modem has been implemented × 20MHz carrier aggregation. By using 4x4MIMO and 256-QAM support, the X16 LTE can receive 10 independent data streams when only three 20MHz carriers are used. When FDD is used for all carriers, the chip can achieve a maximum downlink rate of 1Gpbs, which is what we call a gigabit network.
The role of Qualcomm three carrier aggregation
It can be said that the application of Qualcomm's three carrier aggregation technology is worthy of recognition. From chip research and development to technical testing, and finally to commercial promotion, Qualcomm has maintained a leading, stable and high-quality development. As a chip giant with perfect mobile communication solutions, Qualcomm shoulders the mission and responsibility for the application of three carrier aggregation technology.
At present, the demand for mobile networks is growing explosively, and users' requirements for peak rate and bandwidth are further improved. At present, all operators are faced with the situation that mobile communication spectrum resources are tight and decentralized, and the communication services they can provide can not meet the needs of users. The role of Qualcomm's three carrier aggregation technology is to help operators make more efficient use of limited and decentralized spectrum resources, achieve higher transmission rates and greater capacity, and thus provide users with a more high-quality and powerful mobile broadband experience.
For users, the most intuitive feeling that Qualcomm's three carrier aggregation technology can bring is that the application download speed is faster, high-definition video playback does not need buffering, and playing mobile games will not be delayed. Even if this is not all, it is a great progress and improvement for the entire online activity experience.
Qualcomm, a combination of high-quality communications, is also Qualcomm's original intention and mission. It is simple and complex. Simple, because every innovation is aimed at creating high-quality communication. Just like the application of Qualcomm's three carrier aggregation technology, speed and quality improvement is the key. Complicated, because every innovation and invention requires extreme investment and cooperation of all parties. Only by constantly putting the three carrier convergence and even more carrier convergence into practice, and finding a better solution through repeated testing and running in, can we truly achieve better communication effects. It is believed that Qualcomm is continuing and that extreme speed communication is not far away from us.